Instead of focusing on improving their cellphone batteries so they last longer without going through the plug, many brands are focusing on charging their smartphones with fast, but very fast, ones that can bring the terminals from 0 to 100% in a few minutes.
Apple is one of the more conservative companies on this point. While Xiaomi is already experimenting with 300W fast charging, which can charge its phones in just five minutes, those of Cupertino "got stuck" at speeds not exceeding 30W.
While Apple's iPhone phones can charge quickly – albeit not as fast as the competition – you need to use chargers that can deliver that level of performance. And since Apple long ago decided not to include chargers in their phones' boxes, only the Lightning to USB-C cable, we'll tell you what they are some of the best fast chargers for iPhone.
How much current can iPhones be charged with?
Apple is pretty tight on providing information on how to charge its iPhone phones, although there is a support page on the subject. It contains the following information:
Starting with the iPhone 8, it is possible to quickly charge the battery up to 50% in just 30 minutes. This requires an Apple USB-C to Lightning cable and one of these adapters:
USB-C power adapter 18W (iPhone 12 and later requires 20W), 20W, 29W, 30W, 35W, 61W, 67W, 87W, 96W or 140W from Apple (meaning even the most powerful MacBook Pro chargers are used).
Equivalent USB-C power adapter from an independent vendor that supports USB Power Delivery (USB PD).
If we have a relatively new iPhone, a 20W USB-C power adapter would be more than enough to get that 50% charge in just 30 minutes. Nevertheless, Users with an iPhone 14 Pro or iPhone 14 Pro Max can enjoy fast charging from 25W to 29W at peak times or based on testing and a 30W AC adapter would be required.
Buy the best fast chargers for iPhone
Apple 20W USB-C Power Adapter
We start with the official proposal from Apple (24.99 euros), which has a power of 20W and a USB-C connector. It's fast, efficient and compact. Is one of the most recommended options, in addition to one of the best selling chargers. It can also be used with iPad Pro 11 and 12.9-inch tablets in addition to iPhones.
Apple 20W USB-C Power Adapter
Belkin Dual USB-C PD 40W Wall Charger
If you need to charge two devices at the same time, the Belkin USB-C PD Dual Wall Charger ($20.99) can be of great help. You can charge an iPhone 12 from 0 to 50% in 25 minutes and an iPad from 0 to 50% in 40 minutes.. It is compatible with devices from Apple, Samsung, Google and other brands. It is USB-C PD 3.0 certified and has a compact design for easy portability.
Belkin 40W USB Type-C PD Wall Charger (Two 20W USB-C ports each for PD Fast Charge for iPhone 14 or 13, iPad Pro, Galaxy and more)
Anker 511 GaN Fast Charger (Nano 3)
If you are looking for a charger that is as compact as it is powerful, the Anker 511 (Nano 3) (24.99 euros) stands out with its small content thanks to GaN technology and its 30 W output, so it can even charge a MacBook Air. It is ideal for charging an iPhone 13 Pro Max or an iPad Air to 50% in just 45 minutes at maximum speed. ActiveShield 2.0 technology protects devices with its "intelligent" temperature control.
Anker USB C GAN Charger 30W, 511 Charger (Nano 3), PIQ 3.0 PIQ 3.0 Fast Charger, Anker Nano 3 for iPhone 13/13 Mini/13 Pro/13 Pro Max/12, Galaxy, iPad
Baseus Ultra Slim 65W Dual Charger
There are chargers that stick out too far from the wall, and in certain outlets, if they're near furniture like closets or sofas, they can be uncomfortable to use. However the flat wall charger from Baseus (48 euros) for cramped spaces has a USB-C and USB-A connection as well as adapters to use it internationally. Its maximum power is 65W.
Baseus 65W Ultra-Slim 16mm USB-C Wall Charger for Tight Spaces, 2-Port Flat Wall Charger Compatible with Mac-Book Pro/Air, IP-Hone 14 Pro/Pro MAX S23 Ultra, S23+, S23 and more
Satechi 100W USB-C wall charger
Those who prefer a more versatile option that can be used on both iPhone and iPad or MacBook Pro have a shot at the Satechi USB-C PD Wall Charger ($43.99). 100W power, and still it is quite compact as it incorporates GaN technology which makes it faster and more energy efficient as well as smaller. It comes with ETL and CE certifications for safer and more efficient charging.
Satechi 100W USB C PD Wall Charger – Powerful GAN ​​Technology – for M2/ M1 MacBook Pro/Air, M2/ M1 iPad Pro/Air, iPhone 14 Pro Max/14 Pro/14/14 Plus
UGREEN Nexode USB-C charger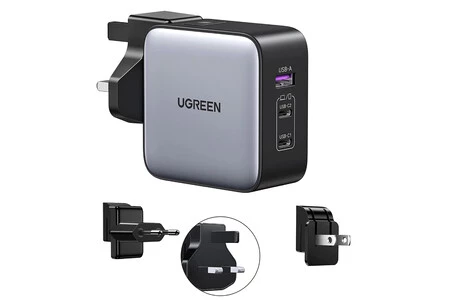 We end up with the UGREEN Nexode (49.79 euros), a triple charger with two USB-C (65W maximum power) and one USB-A (22.5W) so you can Charge three devices at the same time. Includes three power adapters for use in Europe, Great Britain and the United States of America. It supports various fast charging protocols such as PD 3.0, PPS, QC 4+, SCP and AFC. The current is distributed to the three terminals for better charging.
UGREEN Nexode 65W International USB-C GaN Charger 3 Ports Universal Travel Charger with International Plugs (EU/UK/US) Compatible with MacBook Pro/Air, iPad Pro/Air, iPhone 14/13, Galaxy S23, Pixel
More offers
When you sign up for Amazon Prime, you can take advantage of a 30-day free trial (from €49.90 per year) to enjoy free fast shipping, priority access to deals, services like Prime Video, Prime Music and unlimited photo storage. Plus, if you're a student, it costs half as much to become a Prime Student and you have a 90-day trial. You can also try services like Kindle Unlimited or Audible for free for 30 days.
In our profiles you are always up to date and informed at all times about all the latest news from the Apple world and the offers from Applesfera Selection Twitter and Facebook.
Some of the links in this article are affiliated and may give Applesfera an advantage.
Pictures | Apple, Anker, Belkin, Satechi, Baseus and UGREEN
In Applesphere | Charging the iPhone at night: Myths and facts about the effects on the battery
In Applesfera Selection | Nine USB-C and MagSafe chargers to charge the battery of your new iPhone 14


Source : www.applesfera.com