The arrival of iOS 16.2 has brought many new features including the expected stable release new freeform app by Apple. With this, the company wants us to stay in its own ecosystem, to have a canvas to capture ideas in any way and with any type of data. total freedom.
I've been testing the app for the past two days since it went live, and its potential means we can't think of any use cases that Freeform can't handle. Here is the demo.
Brainstorms, sketches, mind maps and more
One of the cases I see Freeform being most useful for is Plan something like a trip between family or friends. Because each whiteboard we create can be shared by multiple people, everyone can collaborate by adding things like a shopping list, multiple decision options, or the payments made that need to be settled between everyone. For a brainstorming fast between people who are far apart is perfect.
Another Freeform utility can be a quick sketchbook (I insist on quick because of the rough quality of this Snoopy, which I drew in ten minutes). The app doesn't have features like layers or brushes, which we would use for more complicated illustrations, but we can still have a whiteboard where we can quickly scribble anything we need. Of course, the Apple Pencil is of great interest here.
I have no problem with that either mental maps any idea or procedure you have in mind. Apple has never had an application to do this, and more than one will thank you for structuring and organizing whatever plan you have in mind.
Another interesting point that Freeform has is that of Add photos and paint over them: For corrections or studies, it can replace a specialized application for which you pay a subscription. And of course you can combine this with other elements like a good amount of text. You could have an entire lesson from an architecture class in one place.
And while we're talking pedagogically, a teacher can gather a whole lesson on a free-form board to show your students. It can be a substitute idea for some slides, or if the students are using an iPad, they can always work on a board along with an activity that the teacher gives them.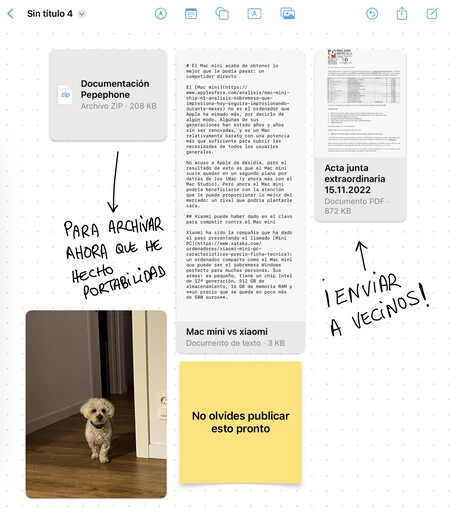 Another point: a freeform whiteboard can be a 'container' of files. Like a traditional folder but where you can add all kinds of annotations and plugins to any file. If you don't like having to deal with Finder or iCloud Drive, this might work for tasks that involve keeping track of multiple files.
I didn't think we would now have another native Apple app sitting next to Notes, Calendar or Contacts. But Freeform has managed to gain a foothold on the docks and main screens of all my devices, and I have no doubt about that I will use it on a personal level as well as to get organized with some friends. Remember: you must have iOS 16.2, iPadOS 16.2 and/or macOS Ventura 13.1 installed to use it.
Source : www.applesfera.com