We all have the same goal when we inherit or buy a new or reformatted Mac: use it without rookie mistakes and prolong its optimal performance for as long as possible. Here we leave you with a list The best tricks and hidden features for your new Mac.
macOS Big Sur Official Trailer: A look at the design of the new operating system
Best Mac tricks and some hidden features to unblock it
The basic macOS options to look at before the rest
Once you start, it's useful to enable them right click Mouse to easily access system context menus. do you have a trackpad Then all you have to do is click with two fingers at the same time to access it.
Sure, autocorrect will annoy you at certain startup times on your Mac, so you can turn off autocorrect to make typing more comfortable. You can do this in Settings, in the Keyboard section and under Spelling.
Pay attention to the activation Cloud synchronization of Documents and Desktop folders. in iCloud Drive: You can take up all the storage space in your cloud in a matter of minutes. Fortunately, on newer Macs, the option is no longer enabled by default.
For uninstall an app You can delete it directly or use more advanced programs with additional benefits. Here are the differences between both methods.
if you need format a floppy disk On Mac, we share with you the existing formats that you can use.
Remember: Adobe Flash is now obsolete. If it was installed as a result of a migration, your best bet is to remove it.
many uses want to start automatically when you start your Mac. Disable autostart so your computer doesn't slow down when you turn it on.
Personalization tricks for Mac
if you don't like them the default resolutions offered by macOS, you can force the system to offer you more optional resolutions at any time. In MacOS Ventura you have the possibility to activate the option to display the resolutions as a list in the advanced options in the Settings, Displays area.
You can tint macOS windows any color you want. We tell you how to do it, along with other quick tricks for macOS Big Sur, Monterey, and Ventura.
If you're one of those people who spend whole afternoons customizing the system, here you have 1,000+ free icons for it.
The Memoji It's not just an iPhone with Face ID: Here are the steps to create a Memoji of your new Mac.
FaceTime calls between groups can be dizzying when everyone is talking at once. We explain how to set a size for all participants in the video call.
Remember that macOS Big Sur and later versions allow you to pin iMessage conversations to the top of the sidebar.
Don't like how Safari closes the window when you close its tabs? Here's a trick to prevent the Safari window from closing.
Get more out of your Mac keyboard with Shortcuts and Shortcuts
You can use point light as a pocket calculator, unit converter of all kinds or as a currency converter. Check it by writing the operation itself or an amount in a unit of measure in the search engine.
Close an application window can be done by pressing CMD+W. However, if you want to quit this application completely, you have to press CMD + Q.
Want to empty the Trash immediately without being prompted for confirmation? Press CMD + ALT + SHIFT + Delete.
Chrome can be awkward when prompted to hold CMD + Q for a few seconds to close the browser. Here's a guide to disabling this option and exiting Chrome without waiting.
A recommendation: Disable the option to reopen all windows when you restart your Mac to ensure a clean boot.
Be a productivity ace on macOS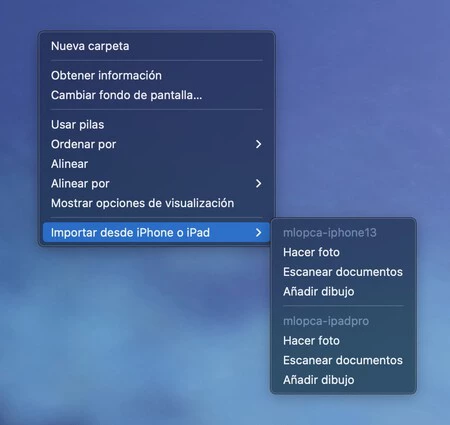 For Import documents or photos from an iPhone or iPad No need to go into complications: you have the option in the secondary menu of the desktop.
Print a document just for Sign it and resend it digitally It's from the last decade. This is how you can sign a document without using paper.
If you need maximum performance from your portable Mac, you can use this trick to disable optimized charging for the battery.
If you trust Apple more than any third party, you can turn the Reminders app into a simple GTD manager.
If you use Mail, remember that you can send messages straight to the Trash from senders you block.
Safari favorites and bookmarks are two different things. Learn to tell them apart.
Other secret macOS tricks and features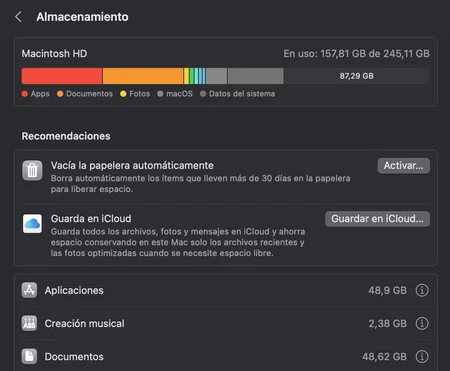 image | Michael Sapiton
In Applesphere | No Mac is immune to dust: that's what happens if you don't clean it from time to time
Source : www.applesfera.com