Sending files that take up a lot of storage space is already a task that requires the use of additional services on our computer, let alone our iPhone. And yes, there are cases in which our iPhone can contain files that exceed 5 GB of storage space. The most common example is a video that we recorded in maximum quality with no compression from an iPhone 14 Pro.
Given such sizes, not even WeTransfer can help us unless we are willing to pay. luckily we have a free way to send those files for free without leaving the iPhoneLet's see how we can do it.
The only limit is you… or your width
The magic is done by a service called Smash, which will help us send files with no size limit, even in free mode. You can download the official application from the App Store. There are payment plans that prioritize the download and keep it available longer, but we won't need it if we accept the free registration conditions:
If the file is larger than 2GB, the download may have a lower priority for the service and it may take longer to reach its destination.
The download is stored on the servers for seven days.
The service's interface adds advertisements.
After downloading and opening the application, you will see that to be able to send files you just have to press in the middle of the screen. You have the option to choose photos and videos from your camera roll or a file you have saved through the Files app, including those in iCloud Drive (but not shared through this service):
Once you select these files, they will be uploaded and a share link will be automatically generated. I used something small in my test, but keep that in mind if you plan to upload many GB You need to be patient and use a quality Wi-Fi network. Luckily, you can pause the upload if you suddenly need to move:
When the upload is complete, you will see that you can share the uploaded file immediately via the iOS "Share" interface: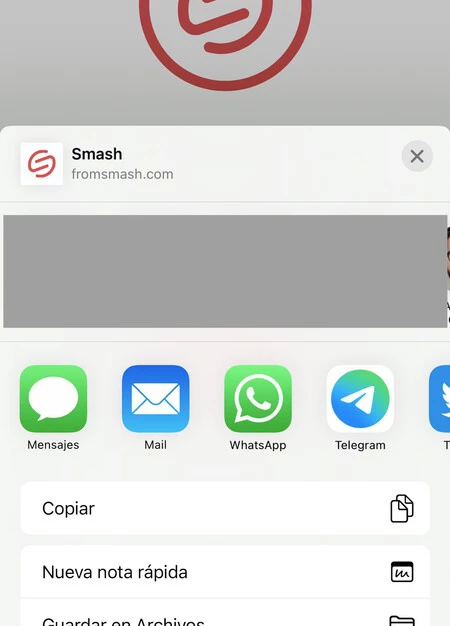 Anyone you send this link to can download the file from any device. You don't need an appwhat opens is a website with the file and a countdown of the days left to download it:
The main benefit of Smash is that it's simple and direct, for on-time shipments You are not even asked to register with a user account. It can save you the hassle of sending high-quality videos or large files, and of course you can use it from an iPad or a Mac too.
Source : www.applesfera.com