Being a collector of anything has one major disadvantage: draining your bank account. And if we start talking about Apple collectibles, you better be a millionaire if you intend to fill your house with the company's vintage computers and gadgets. Although there are collection alternatives that can be more interesting.
We can check that in stores like Etsy where Fans and lovers of the bitten apple brand sell creations that may pique your interest. Having a see-through iMac at home from 20 years ago can be great, but that doesn't mean Apple-themed mugs or pictures aren't worth it. Let's look at some examples.
The "Collector's Gallery" of every Apple fan
First off, this table shows that there are items made by fans and for fans that can look great on your office wall. In it, you'll see the evolution of the Mac from its beginnings in 1984 to today with the Mac mini M2. KOFdesignArt sells it on Etsy for €8.01.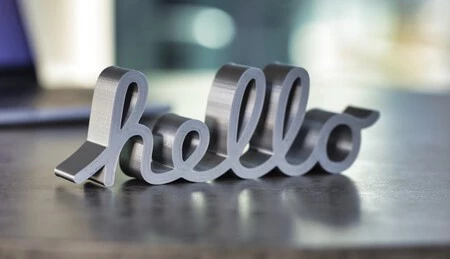 If you like the splash screen on Apple devices, you'll recognize this bespoke "Hello" 3D printed. It is made by WonderSquad of London and costs 18.67 euros.
More 3D prints: this time, a full-scale reproduction of the original Macintosh. For 13 euros you can use it to decorate your work table or give a good gift to a fan of the brand.
This poster is for the veterans who remember marketing the first iMacs and their colors that revolutionized personal computing, brought joy to our desks and moved away from the beige that dominated the towers of that era. It is sold unframed for €8.01.
You don't have to resort to purchasing old items to display the rainbow Apple logo. You can get it in this cup for 24.10 euros. Possibly one of the best low budget gifts you can give someone who is a veteran of the brand.
In addition to posters and miniatures, you also have this 3D printed lamp for another corner. It's also 3D printed and has a remote control to change the color of its internal LEDs. It is sold for 79 euros.
If you want to pass all levels of techies You have this 1MB of memory that you can use to boot an Apple II with ProDOS. Few will use it, but for 30 euros you can have an interesting piece of Apple origins to decorate.
And finally, we have this image with a disassembled iPhone 2G to show its components and to remind us of one of the most crucial steps that catapulted Apple into one of the most valuable companies in history by any measure. It is available for 90.16 euros.
In Applesphere | Steve Jobs demanded the best possible screen in six months: This is how Corning revolutionized the first iPhone
Source : www.applesfera.com