If you're more of an Epiphany than Santa Claus and still need a gift to craft, we recommend you eight gifts arriving before January 6th and users of the Apple ecosystem might like.
Belkin BoostCharge MagSafe Wireless Charger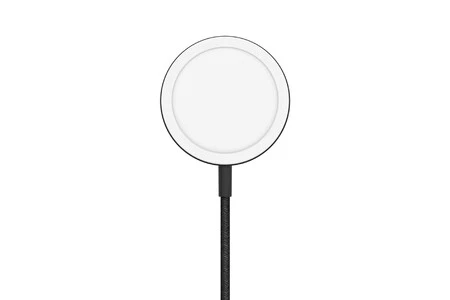 We start with an interesting accessory for iPhone 12 and newer users. The MagSafe Belkin BoostCharge charger (33.54 euros) has a two-meter braided cable for convenient use and integrated support for consuming content while charging the smartphone battery on it Power up to 15Wis available in two colors and can be used with MagSafe cases.
Belkin BoostCharge Portable Wireless Charging Pad with MagSafe (15W Fast Charge, Detachable Vertical Stand for iPhone 12 & 13 Series, AC Adapter Not Included), Black
iPad compatible stylus
The Apple Pencil is quite an expensive accessory, but there are alternatives like the KECOW Stylus ($17.84) that offer a similar experience thanks to their tech Palm rejection and tilt detection. Its latency is very low, making it seem like it's writing with a pen on paper. It is compatible with all Apple tablets released from 2018 onwards.
Touch Screen Pen, iPad Pencil 2018/2019/2020/2021, Palm Rejection Stylus Pen, Dual Tip iPad Pencil, Tilt Sensing Touch Pen
Anker 621 MagSafe power bank
A MagSafe external battery like the Anker 621 ($49.99) never hurts if you have a compatible iPhone. Its 5000 mAh capacity offers up to 17 additional hours of video playback to the smartphone. It charges via USB-C and its slim design allows for easy portability, plus the iPhone doesn't make it difficult to hold while in use and is held in place by its powerful magnets.
Anker Magnetic Battery 621 (MagGo) 5000mAh Magnetic Power Bank with USB-C Cable Compatible with iPhone 13/13 Pro / 13 Pro MAX, 12/12 Pro / 12 Pro MAX Only
Fire TV Stick 4K max
If the television is not compatible with the Apple TV app because its operating system is limited or not directly "smart", the Fire TV Stick 4K Max (41.99 euros) is a good choice Access to Netflix, Prime Video, Apple TV, Filmin, Movistar+ Plus, Atresplayer and many more apps. It is capable of playing content in high definition 4K Dolby Atmos and with Dolby Vision sound. It connects to the internet via Wi-Fi 6.
Fire TV Stick 4K Max with Wi-Fi 6 and Alexa Voice Remote (includes TV controls)
Logitech Keys-To-Go Bluetooth Keyboard
The Logitech Keys-To-Go Bluetooth wireless keyboard (EUR 49.99) is suitable for use with an iPhone, iPad or Apple TV. very thin and light, making it easy to take with you anywhere. It is durable thanks to its FabricSkin cover, which protects it from dirt and splashes. Its autonomy is up to three months with an average use of two hours a day. It has a number of iOS shortcuts and well-spaced buttons.
Logitech Keys-To-Go Wireless Bluetooth Keyboard for iPhone iPad Apple TV Lightweight Ultra-Portable QWERTZ Spanish Layout Black
5th generation Amazon Echo Dot "smart" speaker with clock
Amazon's latest "smart" speaker ($39.99) has been updated with better sound quality to enjoy music even more with clearer voices and deeper bass. It is compatible with Apple Music, Spotify, Amazon Music and other services, making it an interesting alternative to the HomePod mini. It comes with the Alexa voice assistant and an LED matrix that shows the clock, weather, the song that's playing, and other features.
New Echo Dot (5th generation, model 2022) with clock | Smart speaker with clock and Alexa | Bluish grey
eufy 2K 360º HomeKit Home Security camcorder
To control what happens at home when we're not there, this eufy 2K home security camera (49.99 euros) offers 2K resolution (1080p with integration with HomeKit) and can be rotated 360º and tilted 96º vertically for a clear view of the entire room. Tracks action when motion is detected, provides two-way communication and night vision.
eufy 2K indoor WiFi surveillance camera, indoor IP camera, pluggable pan-tilt surveillance camera, person recognition, with voice assistant, motion sensor, HomeBase not required
VOCOLinc HomeKit diffuser and humidifier for essential oils
If we tick the box "Apply 45% Coupon" We can get hold of the VOCOLinc HomeKit humidifier and diffuser for essential oils for 30.24 euros. With a 300ml water tank, it can work continuously for up to 12 hours at night and has two spray modes. It is possible to configure it with up to 16 million colors. It integrates with HomeKit, Alexa, and Google Assistant.
Alexa Essential Oil Diffuser, VOCOLinc WiFi Ultrasonic Aroma Diffuser 300ml and Humidifier for Alexa, Homekit and Google Home, App and Voice Control, 2 RGB Mist Modes, Timer
In our profiles you are always up to date and informed about all the latest news from the Apple world and the offers of the Applesfera Selection Twitter and Facebook.
Some of the links in this article are affiliated and may give Applesfera an advantage.


Source : www.applesfera.com