Although there are still two weeks until Christmas, time flies very quickly and it is just around the corner. We come from a big shopping event like Black Friday, where many people take the opportunity to buy gifts. But if you still have something to do with an Apple fan person, and Your budget is up to 100 euroswe suggest nine ideas to help you be successful. Also, don't miss the collection of gifts for less than 50 euros that we recently published.
Technological gifts for less than 100 euros
Anker Life P3 Noise Canceling Bluetooth Headphones
AirPods are priced at over $100 so aren't in the budget, but there are alternatives that can be interesting and are compatible with iPhone and other Apple devices, such as the Anker Life P3 ($79.99). They come in four colors and feature custom 11mm drivers for powerful sound, and one of their strengths is noise cancellation. Through the mobile app, you can enable BassUp mode to boost bass in real-time. The noise canceling has multiple modes: transport, outdoor and indoor.
Anker Life P3 Soundcore Wireless Bluetooth Headphones Multi-Mode Noise Canceling Powerful Bass Clear Calls with 6 Mics 35 Hours Wireless Charging App Personalized Sound
Beats Flex Bluetooth Headphones
The Beats Flex (65 euros) are Bluetooth headphones that offer greater integration with Apple devices thanks to the integration Chip W1, so setup is pretty quick and they have features like audio sharing. Its autonomy reaches 12 hours of uninterrupted sound, its flat cable avoids tangling and they are magnetic, with an automatic play and pause function.
Beats Flex Wireless Headphones – Apple W1 Chip, Magnetic Earbuds, Class 1 Bluetooth, 12 Hours of Non-Stop Sound – Black
Zagg Pro stylus for iPad
The stylus is one of the best accessories for iPad, especially for students and creative people. That being said, the Apple Pencil is fairly pricey, but thankfully there are options like the Zagg Pro ($69.99) with a universal capacitive tip that lets you conveniently turn pages, and a active tip on the other end for smooth, precise lines, notes, or sketching. It features tilt detection and palm rejection technology. Its autonomy lasts up to eight hours and is charged via USB-C.
Zagg-Pro Stylus-Black/Grey
MagSafe 3-in-1 ESR HaloLock CryoBoost Wireless Charger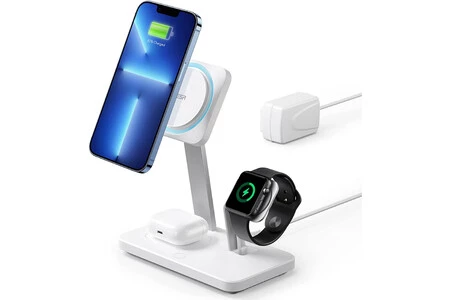 The ESR HaloLock CryoBoost 3-in-1 charging station (76.99 euros) is a good gift for anyone who has the complete package of Apple Watch, iPhone 12 and up and AirPods with wireless charging case to avoid cable clutter and with The CryoBoost technology has good heat dissipation due to the integrated fan. It features powerful built-in magnets that offer a strong 1000g hold and the 360º magnetic ring allows for easy switching between portrait and landscape modes.
ESR HaloLock 3-in-1 Wireless Charger with CryoBoost MagSafe Compatible Fast Charging Phone Cooling Compatible with iPhone 14/13/12 AirPods 3/Pro/2 AC Adapter Included – White
Rolltop MacBook backpack up to 16″ Rains rolltop
Many people work remotely and bring their own laptops with them. The Rains roll-top backpack (85 euros) can be rolled, has a capacity of 13 liters and a side-accessible compartment for a MacBook up to 16 inches. It is made of waterproof PU fabric. withstands water pressure of up to 8000 mm, as well as its zippers to withstand the elements. Padded air mesh back panel and straps add comfort.
Rains Roll Top Backpack Mountain Bike Backpack, Women, Black, One Size
MagSafe ESR HaloLock External Battery
The iPhone 12, iPhone 13, and iPhone 14 can be charged with MagSafe, a technology that uses magnets to attach accessories and works with Qi technology to power these phones. The external battery ESR HaloLock (65.99 euros) is compatible with MagSafe, has a 10,000 mAh capacity and can be charged at 7.5W via MagSafe or 20W via cable. It comes with a stand to consume videos or make video calls while using it.
ESR HaloLock MagSafe Battery with Stand and USB-C Cable, 10000mAh Wireless Battery Compatible with iPhone 14/14 Plus/14 Pro/14 Pro MAX and iPhone 13/12 Series, Black
Hyper Drive Media Hub 6-in-1
Accessories like the 6-in-1 Hyper HyperDrive USB-C hub ($84.99) turn iPads into more versatile devices. It is specially designed for iPad mini, Air and Pro to get the most out of iPadOS. Its HDMI port supports resolutions up to 4K at 60Hz, it is equipped with USB-A 4.0, SD and micro SD reader, headphone jack and USB-C 60W PD charging. Contains buttons for multimedia controlwhat sets it apart from the rest of the options on the market.
HYPERDRIVE Media 6-IN-1 USB-C HUB FOR iPad Pro/Air
HomePod mini "smart" speaker
With good sound quality and the HomeKit power pack for the homeThe HomePod mini ($99) makes a good gift, especially if the person uses Apple Music and Siri-controllable home automation accessories. This device is compatible with AirPlay 2 to broadcast content and outputs sound in 360º. It takes up little space, has a sleek design and comes in an eye-catching range of colors from classic black or white to bold yellow or orange.
Apple HomePod mini (2021), Smart Speaker, Siri, 360º, Bluetooth®, Wi-Fi, HomeKit, Home automation, White
HomeKit Aqara G2H Pro home video surveillance camera
It never hurts to know what's going on at home while we're away, especially during holiday and travel times. The Aqara Hub G2H Pro (59.99 euros) is a camera that integrates with HomeKit Face recognition and sends notifications when motion is detected, in addition to two-way communication and displaying images in real time. The video quality is Full HD 1080p and the 146º wide-angle lens allows you to see a larger space. It also works as a Zigbee 3.0 hub and offers the ability to record video locally.
Aqara Indoor Camera Hub G2H Pro 1080p HD HomeKit Camera Night Vision Two-Way Audio Zigbee Hub Plug-in Camera Compatible with Alexa, HomeKit, Google Assistant and IFTTT
Some of the links in this article are affiliated and may give Applesfera an advantage.
Source : www.applesfera.com