The heat is already noticeable and one of the best ways to combat it is with air conditioning. If you don't get caught by the bull and want to spend the summer without him again, we recommend you MediaMarkt offers five air conditioners with WiFi that can be controlled via the iPhone.
Air conditioning with wifi
Gridinlux Smart Cool WiFi Portable Air Conditioner
Gridinlux is a Spanish brand that offers this portable air conditioner (349.97 euros) with WiFi connectivity, so all its functions can be controlled through the app for mobile devices, although it also comes with a remote control. With the energy class A, it has a 2000 W cooling capacitythree uses and two powers.
Gridinlux Wifi Smart Cool Portable Air Conditioner 7000 BTU 1764 BTU APP Low Consumption Programmable Timer
Daitsu DS-12KDP air conditioner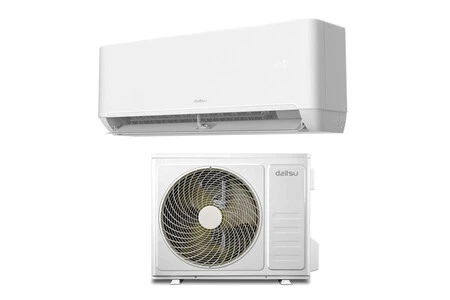 The Daitsu DS-12KDP (399 euros) is an air conditioner with DC inverter technology and Energy classification A++ with a capacity of 3,241 refrigerators, enough to freshen up the living room, dining room or bedroom (regular size). It has built-in WiFi to allow control from the phone, but retains the remote control for more conventional or simple use. It also has a heat pump to use it as heating in winter.
Air Conditioning – Daitsu DS-12KDP, 3241 Fridge/h, Inverter Function, White
Haier Tide 25 air conditioner
We continue with the Haier Tide 25 (439 euros), an air conditioner that is reliable and efficient. With a sound pressure level of just 20 dB(A), it has a nominal cooling capacity of 2,236 Frig/h and a heating capacity of 2,408 Kcal/h. It has WiFi connectivity for control via iPhone and is integrated with Google Assistant and Alexa. It features six speeds for more control.
Air Conditioner – Haier 1X1 TIDE 25 2236F/2408KCL9, 2,236 fg/h, Split 1×1, WiFi, Inverter Function, White
Haier Tide 35 air conditioner
A step up from the previous one is this Haier air conditioner (459 euros) with a greater cooling capacity of 2,752 Frig/h to cool the room faster (or use in larger rooms). And it also features a heat pump for use in the colder months. It has WiFi for control via mobile devices, which is very useful when we don't have the remote control at hand or we can't find it. It integrates with voice assistants.
Air Conditioner – Haier 1X1 TIDE 35 (2752F/2924KCL), Split 1×1, 2,752 fg/h, WiFi, Inverter, Heat Pump, White
LG 32PLUSWF12E air conditioner
In the end we chose the LG 32PLUSWF12E air conditioner (499 euros), of the inverter type and with a cooling capacity of almost 3,000 frigs/h. Thanks to the LG ThinQ app, it can be controlled via smartphone, in which it is also possible to schedule its operation. Monitor consumption and check the status of the filters, Among other functions. It is compatible with Google Assistant. It has a self-cleaning function and a corrosion-resistant Goldfin coating, which is interesting for coastal areas.
Air conditioning – LG 32PLUSWF12E, Inverter, 2980 fridge/h, 3410 kcal/h, voice control, WiFi
More offers
When you sign up for Amazon Prime, you get a 30-day free trial (from €49.90 per year) and benefit from free expedited shipping, priority access to deals, services like Prime Video, Prime Music and unlimited photo storage. Additionally, if you're a student, Prime Student membership costs half as much and comes with a 90-day trial. You can also try services like Kindle Unlimited or Audible for free for 30 days.
You are always up to date and informed about all the news from the Apple world and the offers from Applesfera Selection in our profiles TwitterFacebook and Telegram
Some of the links in this article are related and may benefit Applesfera.
Pictures | Gridinlux, Daitsu, Haier and LG
In Applesfera | What can happen to our iPhone with the heat wave in Spain and how to "refresh" it
In the Xataka selection | Air conditioners with the best price-performance ratio: which ones to buy and six recommended models from just over 200 euros


Source : www.applesfera.com