What if Apple TV+, what if Apple TV, what if Apple TV 4K, what if the TV application … at the level of audiovisual services, Apple has come a long way, but the nomenclatures can confuse anyone just looking for something to watch after dinner.
So we will explain it well what Apple TV consists of as a service contained within its own application, as there is life beyond Apple TV+ and its premieres. Let's see everything in detail.
What is Apple TV
Apple TV is the Apple service that focuses its offerings rental, purchase and subscription of video content. All these services are concentrated in one application, TV, which is currently pre-installed on all Macs, iPhones, iPads and Apple TV 4K.
If you've been using a Mac for many years, I can also define Apple TV as what used to be focused on the iTunes video section and iTunes Store for movies. The death of iTunes moved all of that to the TV app.
Within this application you will find two main sections in the bottom bar: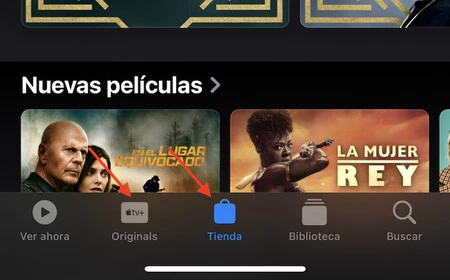 Save on computerwhere you can rent and/or buy films from the main distributors.
originalsfrom where you can access the Apple TV+ subscription catalogue.
In addition, the Watch Now section recommends movies and series that we should watch when we're looking for something, and the Library section shows us the content we've downloaded, either renting, buying, or downloading from Apple TV+.
How to watch Apple TV on your devices
If you have an iPhone, an iPad, a Mac or an Apple TV, you've already done everything: you just have to open the TV application of these devices. If you have Windows, the TV application is also officially available to you in the Windows Store. On the same platform you also have iTunes, although it is recommended that you stop using this application because Apple considers it outdated.
If for some reason you deleted the TV app from your Apple device, don't worry, you can re-download it for free from the App Store. Compatibility with iOS 10 guarantees that it will work on most devices, even if they are already of a certain age.
On the other hand, if you have a computer running Linux or an Android device, there's no problem either: you can access the TV services through the official website. And if you want to watch it on your TV but don't have an Apple TV 4K, don't worry: the vast majority of modern smart TVs have the TV app on their own platforms too.
What is the Apple TV Catalog
If we only stick to Apple TV+, we will only find those there Apple's own productions like 'Ted Lasso', 'Foundation' or 'Separation'. It is a limited catalog if we compare it with that of other services of streamas it does not contain films and series from other distributors.
where we will have Content of almost all studies It can be rented and bought in store, although it depends on the distributor whether you can rent, buy, or do both with each film available.
To rent a movie means you can download it and watch it offline, but only for a 48-hour period after you watch it.
Obtain A movie means you can download, delete and re-download it from the store as many times as you like. You would only lose it if the retailer took it out of business, which is a very rare occurrence.
Price in Spain from Apple TV
If you want to buy or rent a film, the prices vary depending on the film and the offer. A recent film will be more expensive (prices between 14 and 16 euros), while there are offers for only 3.99 euros. The situation is similar with the rental: renting a premiere can cost 4 or 5 euros, on the other hand there are rental offers for only 0.99 euros.
For its part, Apple TV+ is a subscription to €6.99 per month which gives you unrestricted access to the entire catalog of your own productions. You can also opt for the €69.99 annual subscription to save some cash per month, or consider the Apple One plans, which include Apple TV+ and the rest of the company's services at a discounted price.
Source : www.applesfera.com