We live in a time when the freemium and subscription rule. Either you pay, or you'll be engulfed in a sea of ​​distractions and ads that's hard to resist. Therefore, the best we can do is to remember that it still exists Programs for mac free. For iOS, iPadOS and macOS. We offer you a list of some of the most popular ones.
VLC media player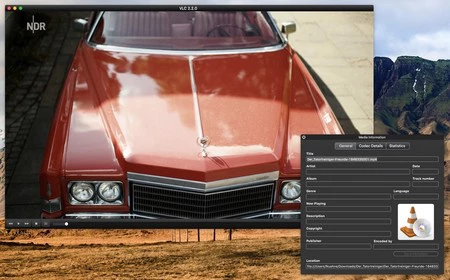 I start with the app, which I install before every Mac when I start one up or when I help my customers set it up. VLC media player is the video player that supports all formats, which supports even poorly coded videos and should make QuickTime makers blush. You can download it from the official website. Oh, and it's on the other platforms too.
handbrake
And after the player the converter. If you would like Digitize DVD movies or you want to change the format of some saved videos, Handbrake is the converter you need. Accepts all formats of both Entry How Exit, including resolution ratings for different devices. You can download it from the official website.
TinkerTool
A great little utility for macOS that lets you tweak some hidden system options, usually behind complicated terminal commands. A free swiss army knife that you can download from its official website.
GIMP
GIMP is always on these kinds of free app lists, but you have every right to be. This program has been maintained by its developers for many years and will always remain so the free and open alternative to Photoshop through excellence. Ideal for those who need an editor to create simple or medium editions. On its official website you have the downloads for macOS.

RSS bot
We have much RSS reader Choice on Apple platforms, but RSS Bot has an interesting twist: it's just a drop-down menu from the menu bar that shows you the headlines of the feeds you want. Very simple but very effective. You can download it for free from the Mac App Store.
Mac tracker
If you are a veteran and you like Apple very much, MacTracker is a must-have app for iOS and macOS. contains absolutely all information on all products that the company has brought to the market since his birth. With it, one can check how much memory the original Macintosh had, what year the white methacrylate MacBook was deprecated, or how many GB the iPhone 4 contained when it was sold.
MacDown
If you are looking for one markdown editor free for macOS, MacDown should be among your first choices. It has exactly what you could want from such an application: multiple light and dark themes with the possibility to edit them by hand, keyboard shortcuts to add links or styles to the text, live preview… and all that All you have to do is save your documents. .md in a folder in the cloud to enjoy syncing between multiple Macs.Here is the official website to download it from.
keka
macOS is capable of compressing and decompressing ZIP files without the help of third-party applications, but we cannot do that for those RAR, TAR-GZ or 7Z files. We have many uses for it, but one of the best is Keka. You can get it for free on its official website (it's available on the Mac App Store for $3.49 as a donation to the developers).
delta rune
Yes, there is also room for games: Deltarune is a Game in the universe of the popular In the Undertale, created with the same aesthetic and by the same author Tobyfox. Its gameplay is one of the most original ever seen, with the mechanics of an RPG but with the possibility of winning without having to use violence. See for yourself by downloading it for macOS from the official website.
0 AD
Another game worth mentioning is 0 AD, the open source alternative to the legendary Age of Empires that we can easily install on Macs. It's not the same experience, but it's very close and we can't ask for much more when the developers are giving it to us for free. You can download it from the official website.
XMenu
We recently talked about XMenu: a small but powerful utility that can View folders, files and applications in the form of one or more drop-down menus. Perfect for those who hate the dock or just want to save space on a small-screen Mac. You can download it from the Mac App Store.
iWork (Pages, Keynote, and Numbers)
iWork is not the office suite most used worldwide but usually underestimated. It's free on all Macs, whatever you have, and it's perfectly compatible with Microsoft Office files. Pages documents are flashier, Numbers spreadsheets are cleaner, and frankly, PowerPoint doesn't quite match Keynote's powerful animations. Available for iOS and macOS and comes standard on all Macs.
telegram
Do you think WhatsApp is the best instant messaging application because everyone uses it? No way. Telegram saves all your chat history in the cloud without taking up any space on the phone (just a cache that you can clear), it's truly cross-platform and comes with thousands of bots and utilities that manage it the most flexible and powerful messaging client of the world. Free for iOS and macOS.
Everything from Microsoft
The Wunderlist heir has everything to help you organize your life: to-do lists, notifications by time, subtasks… with a little willpower and all, you can regain productivity that you may have lost to the distractions of social media. You have it on macOS and iOS.
DaVinci resolution
iMovie is not enough for you and Final Cut Pro or Adobe Premiere Pro seems too expensive? No problem, DaVinci Resolve can be a video editor that can meet your needs without spending a penny. It has a bit of a learning curve, but we're talking about a professional editor. You can check it by downloading it from the Mac App Store.
CityMapper
It's only available in a few cities around the world, but it's a hit wherever it is. CityMapper is your new favorite iPhone app if you frequently use public transport, which even tells you exactly which subway car to board so that when you get off at your station, you'll find the exit right in front of you. You have it in the App Store.
relaxed
No, Slack isn't just for work. It may also be the perfect application for you Several people are working on a home project can converse, all together in general conversation or separately in separate rooms, depending on what is being worked on. When a team is large, a simple telegram group is usually not enough. You can download it from Mac App Store and App Store.
great perspective
If the tools for freeing up space on your Mac don't quite convince you, you can install Grandperspective for a color map to help you see which takes up the most space on the computer hard drive. Available on its official website.
AppCleaner
We leave the last position of the list for the application that can kill all other applications. AppCleaner is the free version, equivalent to the mythical AppZapper, capable of removing programs from our Mac Clear all your preference files and cache. A mandatory installation in all our machines so that the Garbage that install the applications do not slow down our Mac in the long term. You can download it from the official website.
image | Ryland Dean in Applesfera | 15 Free and Open Source Mac Apps That Are Clearly Better Than Their Paid Alternatives
Source : www.applesfera.com